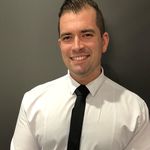 About
Daniel joins our sales team with a long background in sales & is looking forward to assisting clients with all their buying and selling needs!
Contact
Properties listed by Daniel McNamara
"Thank you very much"
Thank you very much for contracting the sale of my home at 10 Silverwood's Blvd, Yarrawonga.
All this happened with you over a short period of 6 days. Your professional approach in how you conducted yourself with the sale and the speed of which it was sold and contacted was second to none.
Nothing was left to chance. Phone calls and emails were an everyday occurrence of which is what i would have expected. Your out of hours work was outstanding. I would have no hesitation recommending your services to anyone looking to sell or buy a property in Yarrawonga or surrounds, Thank you once again for your help in selling my home
- Jason Mason
Yarrawonga
---
"Good country service with abit of fun also"
After a heads up from family about the house we knew we wouldn't have time to drive 3 hrs to look at the property. It was so good and would be gone in no time, So what else could we do but ask to FaceTime a tour of the house. Daniel was more than happy to assist. Showed us everything even under the kitchen skin.
We were in the car on FaceTime to Daniel after a trip to the shops for lunch and had the deal done by the time we were our way to dinner with friends.
I could not have asked for a better service from him and the wonderful sales team. Absolutely amazing!!! True people that care about their clients. Good country service with abit of fun also. Thanks again so much we could not be happier
- Leonie Aguis
---